India has been a temple of knowledge since ancient times. Now youth should become teachers again and go all over the world and make the whole world civilized, this call was given by RSS Sarkaryavah Dattatreya Hosabale Ji on Wednesday.
The new building of Pune-based Maharashtra Education Society's Institute of Management and Career Courses (IMCC) was inaugurated by Sarkaryavah. He was speaking on this occasion.
President of Maharashtra Education Society Air Marshal (Retd) Bhushan Gokhale, Vice President Pradeep Naik, Assistant Secretary Sudhir Gade, President of the MES Governing Council Rajeev Sahasrabuddhe, Vice President Ananditai Patil, and Vice President Babasaheb Shinde, IMCC Director Dr. Santosh Deshpande, Deputy Director Manasi Bhate, Chairman of the College Development Committee of IMCC Adv. Dhananjay Khurjekar were present on the dais.
On this occasion, Hosabale said that he keeps visiting institutions in the education sector and often takes out time to visit institutions in the country as well as abroad. There is joy in this because young boys and girls who give new leadership come out from here. Pune has a distinct place in the educational map of the world. Pune has become an educational hub. Pune has a rich cultural atmosphere. By staying here, the students not only get degrees, but also get enriched in every way.
He further said that the India has a long tradition of education since ancient times. People have been coming here from all over the world and India has remained a temple of knowledge. To say that education in India was limited to a few is an example of a distorted history. Today 130 crore countrymen are standing at the golden stage of implementation of the new education policy.
Regarding management education, he further said that only job seekers should not come out of the educational institutions of India. They should go to different countries of the world as teachers and teach culture to those people too. If this does not happen then who will take the responsibility of Krinvanto Vishwamaryam? Every year three and a half lakh management graduates come out in our country. Unfortunately, only 15 percent of them have been found employable. Management people will have to think about it. Like IT, India can carve out a special place in the field of management for which a favourable social environment exists here. We can create a wonderful world with our management skills. There are many opportunities available for management students here.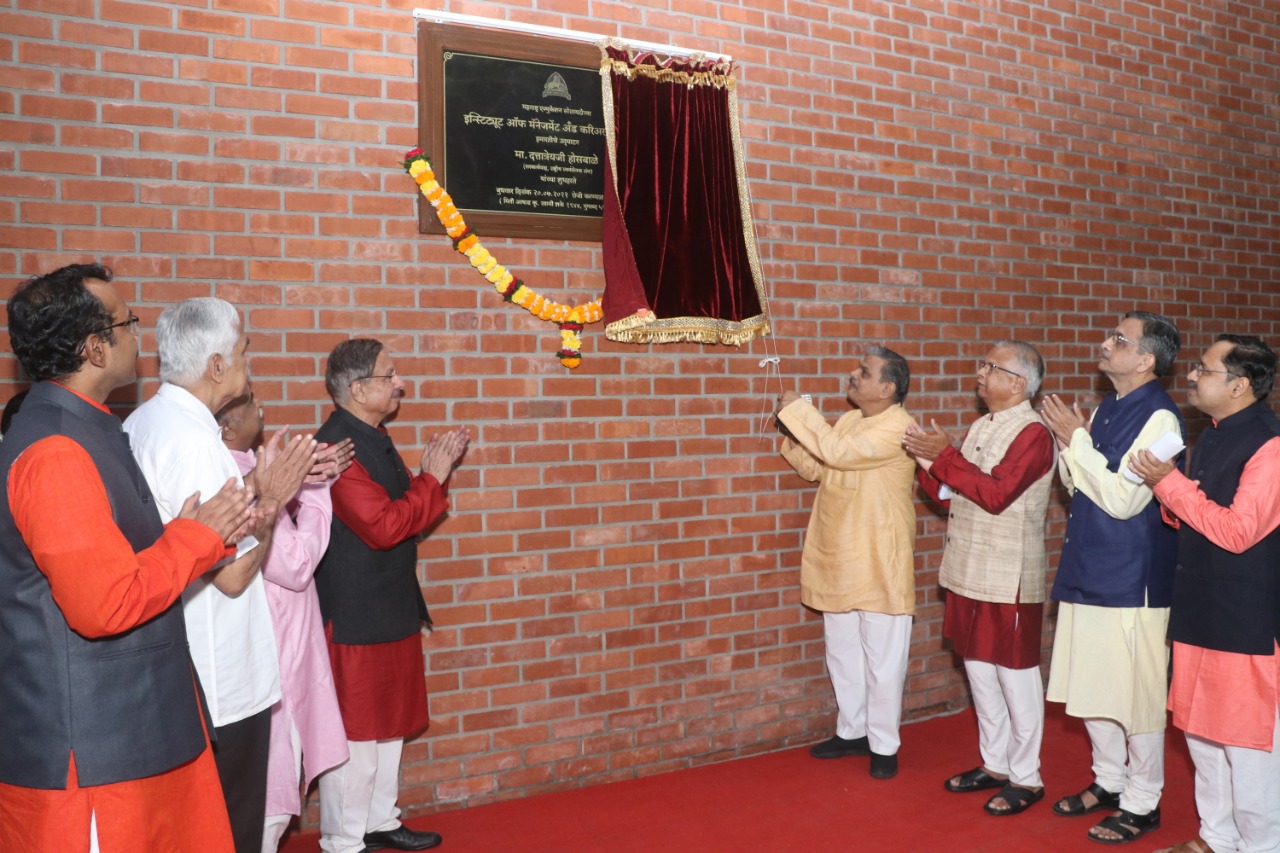 The President of the organization, Air Marshal (Retd) Bhushan Gokhale said that India is the youngest country in the world. It is not just a young country but a young country with aspirations. Maharashtra Education Society will give full strength to the dreams of those youth.
Shubhada Patwardhan compeered the program while Dr. Santosh Deshpande gave vote of thanks.